It's been 7 days after what was dubbed as "The Fight of the Century" between Manny Pacquiao and Floyd Mayweather, Jr. Yet, a lot of people who watched the fight live at the MGM Grand in Las Vegas, at bars and cinemas and even at the comfort of their homes last Saturday night (Sunday Philippine time) can't get over what they witnessed.
As posted on IBN Live's blow-by-blow account of the fight, both fighters came aggressive in round 1 but it was only Mayweather who landed a solid hit before the round ended. Come round 2, Pacquiao landed a left hit. Then come round 3, both boxers released big blows but neither Mayweather nor Pacquiao landed any solid hit. Mayweather momentarily staggered in round 3 when Pacquiao hit him with a huge left.  Pacquiao was not able to follow-up the hit in round 5 as Mayweather evaded his attempts. Pacquiao again released some combination in round 6 but to no avail. In round 7, it changed and Mayweather stalked Pacquiao. A little bit of action came in round 8 when Pacquiao threw big hits and Mayweather counterpunched. In round 9, Mayweather continued to dodge Pacquiao but was able to get a late hit. This continued until fight ended.
After 12 rounds in the ring, Mayweather won via unanimous decision. Judges were aware that Pacquiao and Mayweather threw hundreds of punches and jabs. But they insisted that of the punches and jabs thrown, Mayweather landed more. The scorecards, according to Fox Sports, showed the scores at 116-112, 116-112 and 118-110 with a note saying Mayweather won unanimously.
Boxing greats like Oscar de la Hoya and Lennox Lewis, according to BBC, were disappointed over the turnout of the fight.
Boxing fans also had a different view of the fight. Many were disappointed over how the fight did not meet their expectation. Some lauded how Pacquiao tried to make it action-packed — chasing Mayweather around the ring to land a punch. Mayweather was ridiculed, meanwhile, for hugging Pacquiao when they came in close contact. A lot of memes circulated the net because of Mayweather's actions. Some showed a cropped still of Mayweather hugging Pacquiao in the middle of teenagers dancing at prom.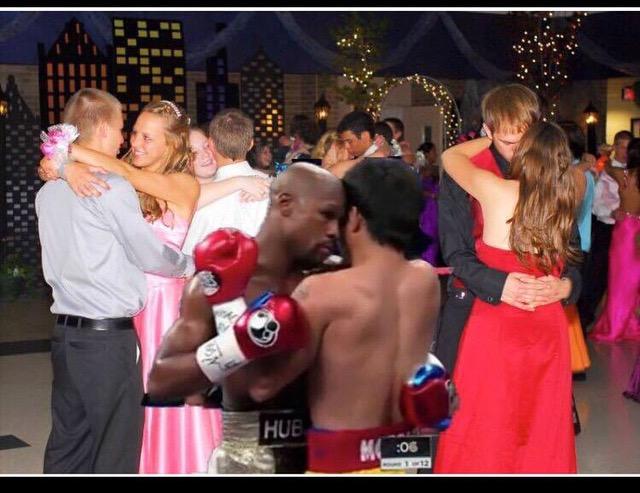 via Latin Times
Even the crowd at the MGM Grand showed their dismay. When Mayweather was awarded the WBO welterweight title belt, he got booed.
In their post-fight interview, Mayweather admitted that Pacquiao was a tough opponent. Pacquiao, on the other hand thought he won the fight.
The anticipated fight took six years to become a reality. It was last February 20 when Mayweather announced on social media that the fight was finally on. When March came, they formally announced together that the fight was slated for May 2. They trained for weeks before they met again in Vegas for the weigh in. At the face-off, Mayweather was fierce while Pacquiao was cheerful.
Though the fight was over and a winner has been declared, post-fight matters continue to surface. Pacquiao's team revealed after the fight that he had a right shoulder injury during the fight. Reports say he might face charges for not declaring it. His adviser Michael Koncz took responsibility for the incident saying it was his mistake that Pacquiao's injury was not reported. Pacquiao underwent an operation on his right shoulder injury last Wednesday, according to ESPN. Doctors expect that he will recover well.
Mayweather and Pacquiao have expressed their willingness to face each other again in the ring. But recently, Mayweather changes his mind, called Pacquiao a sore loser and he's now saying no to a rematch.
Well, let's hope that Mayweather would still change his mind regarding the rematch. We're still hoping to see "The Fight of the Century" not "The Dance Fight of the Century."
Comments
comments